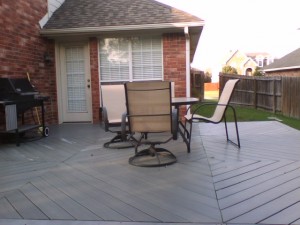 Eon Decking our latest edition
Eon decking is one of fencedeckdallas.com's latest additions to the wide selection of outdoor decking material and we are proud to offer it as an economical and practical alternative to the pressure treated wood decking which we use to construct traditional wooden patio decks. A backyard deck built with Eon decking requires very little maintenance, and is not affected at all by the fierce Dallas sun or by any other weather conditions. Yet, it has a beauty all its own that makes it a perfect alternative for outside decks that are usually built with pressure treated wood decking, especially when the deck will be subjected to direct sunlight or to high volume use by children who may drag toys across the surface of your backyard deck or even use it for rollerblading or skateboarding against your better judgement and advice.
  Eon Decking lower cost
The cost of building  Eon Decking as outdoor decking is lower than that of a wood deck installation when you consider the ease of maintenance and we can offer designs such as circular decks that are easier to construct with Eon than with traditional treated pine decking, redwood decking or cedar decking. Eon contains recycled material and is environmentally friendly, so that our environmentally aware Dallas customers are choosing Eon decking for deck construction as they know their deck will last with even less maintenance than is needed for a pressure treated lumber deck.
 Eon Decking Builder in Dallas
As the leading custom Eon Decking builders in the Dallas area, we can construct decks of all types for all spaces, needs and budgets. Whether you choose innovative decking or more traditional pressure treated decking, we are able to obtain outdoor decking on the most advantageous terms and to pass our savings on to you, our valued consumers.
To find out how a wooden patio deck or a backyard deck made of environmentally friendly and exceptionally durable  Eon decking can be yours at a price lower than you might think, please call (972) 272-0554 or request a free estimate with no obligation whatsoever.