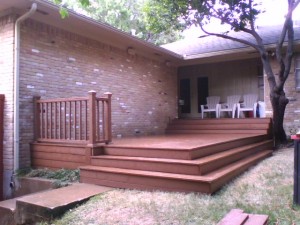 Trex Decking and its recognized advantages
The recognized advantages of popular new outdoor Trex  Decking have made it an ideal choice for our customers who need decks that withstand wear and tear such as that caused by children playing on the comfortable and durable surface of our Trex custom decks. Deck construction using Trex reduces the cost of building deck and is perfect for new homeowners and others who want the lowest possible priced deck without compromising on the legendary craftsmanship that has made FenceDeckDallas.com the first choice among custom deck builders in the Dallas metro area.
Trex Decking Building Experts
As expert Trex Decking builders, we can design and build a deck for your needs and your budget, so that you can choose between Trex, Eon decking and similar composite outdoor decking products as well as traditional pressure treated wood decking including pine decking, cedar decking and redwood decking when we construct the backyard deck you have always wanted.
 Trex Decking will give you years of pleasure and enjoyment
Building with Trex Decking or a patio or a multi level deck that will provide you with years of pleasure and enjoyment is less expensive than you might think. The introduction of innovative materials like Trex has brought down the cost of building a deck, and even a pressure treated lumber deck is more affordable than ever thanks to the recent fall in pressure treated decking prices. Because our suppliers appreciate their special relationships with us, we obtain Trex at the lowest prices as well as enjoying the lowest possible pressure treated decking prices (including reduced redwood decking prices). We pass this savings on to you so that we can create just the deck you need at a price you can easily afford.
Please call (972) 272-0554 or arrange for a free estimate. We look forward to exploring the many ways that we can build with Trex decking in your backyard  for you that will suit your needs for years of outdoor enjoyment just as it remains well within your present budget.