A screened deck can add outdoor living to any home.  We had to cut through the brick and install a doorway out to this one. There are few limitations with our ability to adapt.

We started by positioning and constructing the deck.
This gives use a solid foundation to start building from. The 4×4 post you see are cemented three feet into the ground. Different soil conditions may require more or less.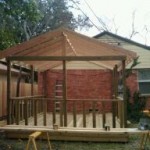 You can now see this screened deck starting to take shape.
When building the structure you can see the pride we install with every job we do to insure that it meets local building codes. With our optional in house 3 D Cad designer we offer options. We can do gable roofs, hip roofs or a combination of both. We can also add natural sunlight with a optional skylight installed as we are building.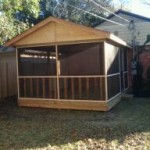 Here is the completed screened deck waiting for your enjoyment.
We have had the opportunity to add more Very Happy Dallas Tx Home Owners to our growing list by giving them an affordable outdoor living space that can be priceless. This can solve several potential problems. Just to name a few – protection from rain – Keeping out those pesky Texas sized Mosquito's – Extend you usable living space –  or just have a place to relax and read- how about a nice LCD attached to the support so you can watch your favorite movie or surf the internet. A Screened Deck may be just what the Doc ordered.
Please take a look at other Screened Deck that we have built for other Dallas home owners. Then ask for your no obligation  Screened Deck quote.