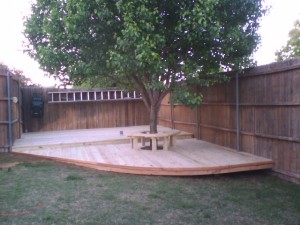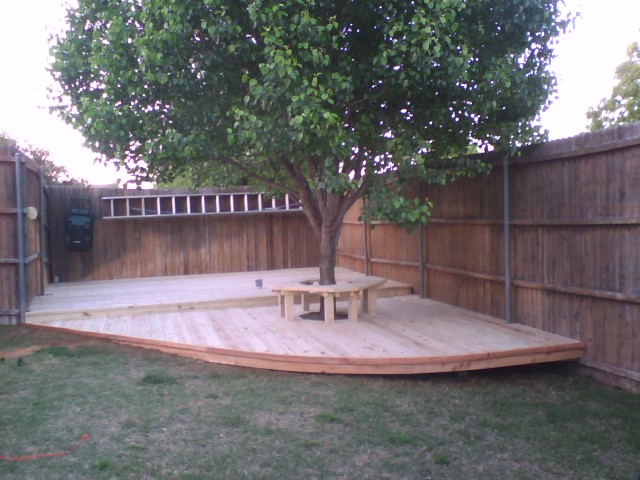 Deck or wooden patio? 
A tree and an awning spreading shade over our wooden patio decks, show how even simple decks can do so much to add to the enjoyment of the outdoors from the comfort of your own home, especially on a hot Dallas summer day. We have placed this treated pine deck in the ideal spot where this Dallas homeowner and his family can get the most out of the natural shade. Still, even if it were installed directly under the hot sun the strength and finish of our treated pine ensures that our wooden decks stay as beautiful as it looks now while it continues to serve this family for years to come.
Custom Deck Builder In Dallas Tx
That is because we at FenceDeckDallas.com have established ourselves as the leading custom deck builders in the Dallas metro area with our commitment to the finest quality in deck construction using top quality pressure treated wood decking, finishes and related materials. Yet, the cost of building a deck with us is affordable and we offer decks that fit every budget just as they fit any possible available space in any backyard.
 Backyard Deck Expert
Building  backyard decks with our team of experts is often much more cost effective than the wood deck repair which we offer for decks built by any builder at any time. After all, when we build  wooden decks, we build it to last, and to provide pleasure and comfort for years after the original wood deck installation is barely a memory. Instead of calling us back for wood deck repair, our many satisfied clients recommend us to their friends and neighbors so that we constantly continue to install backyard decks throughout the area.
The cost of building  wood decks has never been lower, so to find out more about how our wooden decks can do so much to add to the value and enjoyment of your home, please request a free estimate or call us at (972) 272-0554. There is never any obligation and we are always available to answer your questions about any wood deck at any time that is convenient for you.