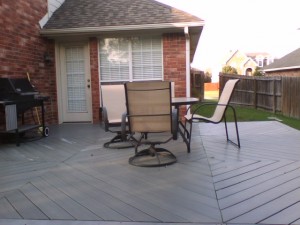 Decks built with pressure treated pine can keep the cost down but…
Even with a pressure treated wood deck prices as low as they are, some consumers prefer the low maintenance and high resilience of materials which substitute for traditional pressure treated decking. Whether we are building a multi level deck out of treated pine decking or redwood decking, or  backyard decks from the newer outdoor decking materials, we take the same care we are always known for throughout the deck construction process. The process of excellence starts from design until the very moment we finish the wood deck installation or installation of a composite deck that is made from environmentally friendly substitute decking materials.
 Desired Material
for Decks
Regardless of the desired material, indeed the cost of building a deck has never been lower and our team of expert craftsmen at FenceDeckDallas.com have been constructing decks for Dallas homeowners who recommend us to their friends and neighbors. This is how we built our reputation as the leading custom deck builder in the Dallas area – customer by customer, custom deck by custom deck – and we continue our commitment to each customer and his specific needs with every one of our outside decks.
Decks with widest possible selection
We offer the widest possible selection of wooden decking and every imaginable style and size of wooden deck as well as backyard decks of composite outdoor decking which are extremely cost effective and environmentally friendly. To discuss our wide range of top quality Decks and outdoor contracting services, please call (972) 272-0554 or contact us for a free estimate with no obligation whatsoever.