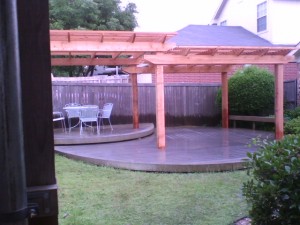 Decks with a Cedar Pergola
The  treated pine wood decks we build offer exclusive weatherproof surfaces that support anything from a row of wooden patio benches to a full shade structure such as this cedar pergola for which we used this custom wooden deck as a base. We are the leading custom deck builders in the Dallas area as well as the premier local outdoor contractor, and therefore we can build anything from simple wood patio deck to a complex multi level deck as a part of your overall backyard environment.
 Decks with Custom Shade Structure
When we combine our custom decks with shade structures and other fixtures that we design and build along with our pressure treated decks, we are able to construct a full outdoor experience of which the wood patio is the beautiful and sturdy natural foundation. Pressure treated wood decking prices have never been lower, so that now is the time to consider a quality wood patio deck from the expert team of deck builders at FenceDeckDallas.com while we design a full outdoor environment for your backyard which will give you pleasure and comfort for years to come.
 Decks built with recycled materials
We also offer state of the art "Trex" recycled outdoor decking that is every bit as strong as pressure treated wood decking, while requiring even less maintenance and allowing us to reduce the cost of building a deck even further. No matter what type of outdoor decking you choose, you can rest assured that every step of deck construction is carried out according to the highest standards. Even when we use the most modern substitutes for treated pine decking, each one of our decks is a functional work that conforms to the timeless traditions of true craftsmanship.
Building a patio and everything else you need to get the most out of your backyard has never been easier or more economical. There is never any obligation when you request a free quote  for decks or call (972) 272-0554.