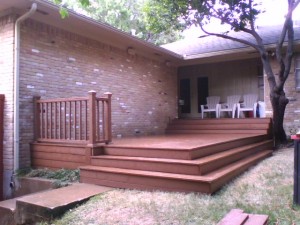 Trex Decking
Even years of exposure with Trex decking exposed to the hot Dallas sun, and the wear and tear of daily use, will not detract from the appearance and strength of this backyard deck which is made with Trex composite decking. Trex Accent decking as seen here offers a natural wood appearance while requiring less maintenance than a traditional pressure treated pine deck.
Trex Decking
We are the leading outdoor contractors in the Dallas metro area, and when it comes to building a deck with Trex outdoor decking or pressure treated wood decking we are the recognized experts. Our custom decks are in constant demand among local homeowners who trust our team of expert deck builders as they recommend our services to their friends and neighbors. FenceDeckDallas.com can construct every type of backyard deck, such as this multi level deck that makes access to this Dallas home so easy while providing comfort and shade that can even be enjoyed barefoot thanks to the advantages of splinter free Trex.
Trex Decking
Wooden decking prices have fallen along with the prices for Trex Decking and other composite materials, so that now is the right time to begin building a deck with us. Our custom decks are designed and built for constant use as they withstand the Dallas sun and wind. Whether we build your deck with Trex or with pressure treated wood decking such as pine decking, we consider your deck an investment in your home and we build it so that it retains its utility and appearance for years, thereby continuing to add to the value and pleasure of your home.
Please arrange for a free estimate   or call (972) 272-0554. There is never any obligation and we will be happy to discuss all options for installing Trex Decking  that is just right for you and your home.