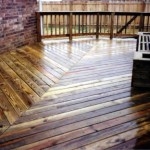 Treated Pine Decks
are popular.
Treated pine decks are one of the most popular materials we use when we build custom decks for homeowners throughout the Dallas area. The wood can be arranged in any pattern, and many different choices of finish are available which both accentuate the natural beauty of the pressure treated pine deck and preserve it over years of continual use and exposure to the elements. We have earned our reputation as the leading custom deck builders in the Dallas metro area by making sure that we adhere to the highest standards of deck construction while keeping the cost of building a deck affordable for most any budget. The expert team at FenceDeckDallas.com offers decks built with the finest outdoor decking materials, and our pressure treated pine decks have earned a reputation for lasting beauty through years of continual service to homeowners along with their families and guests.
 Treated Pine Decks are comfortable.
Pressure treated pine decks provides a comfortable and safe surface for enjoying the best of the outdoors, as it deflects heat even on the hottest days of the Dallas summer. Building a backyard deck with cedar decking or redwood decking is also possible and these, along with treated pine decking, are among the most popular outdoor decking materials that we use for wood deck installation. Whether you need a single level wood patio deck or a complex multi level deck with extras such as wood deck benches, our team can build it.
 Treated Pine Decks are economical.
You will find that the cost of building treated pine decks is much lower than you expected, especially now when pressure treated decking prices have fallen considerably. Many of our clients who originally planned to call upon us for our expert wood deck repair service have instead decided to have us build an entirely new wooden deck, as our decks are known to last for years after the initial wood deck installation has been completed to your satisfaction.
To find out how we can enhance the value and comfort of your home and yard with a custom wooden deck, please contact us by phone at (972) 272-0554 or obtain a free estimate. There is never any obligation, and we will provide you with the most cost effective option for building a treated pine decks that is a real investment which lasts and provides enjoyment for years with only minimal routine maintenance.