Exclude an Above Ground Pool Deck.
So you have spent a lot of money, time and frustrations getting your new above ground pool installed.You invested this time, money and frustrations so you can spend quality time with your family and friends . You find yourself floating on your favorite float that has a built in cup holder for your favorite cocktail with your choice of music playing in the background, the smell of the steaks that are cooking on the grill way over there on the patio and think to yourself "Now This Is It". You look out your backdoor to see the children splashing around in the pool. Ahh the joys of owning a pool !
Fall rolls around. You are still enjoying the pool but not quite as much since the water has cooled down a bit. The leaves start falling from the trees and right in the pool. You have to spend a little time every few days cleaning the leaves out. Winter sets in and unless you can afford the luxury of a pool heater your pool season has ended for a few months. You have a few not so cool days and you want to get outside so you bring out the lawn chairs and set them on the lawn to stare at the metal walls of this big structure and think  "I spent a lot of money, time and frustrations  and This Is It?" Now consider an Above ground pool deck.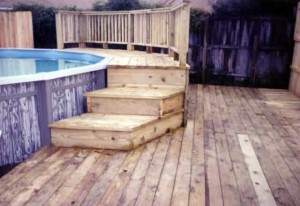 Include an Above Ground Pool Deck.
Well there is a better option.An area that becomes part of that investment in your family and friends that you can enjoy almost endlessly. An Above Ground Pool Deck can greatly enhance your Quality Time with your Family and Friends while extending your time outdoors. The options are numerous when planning your above ground pool deck . To name a few of them – Steps, built in Benches, Hand Rail, Shade Structure like a Pergola, Wood Deck Skirting, a place to swing a rope hammock to lay back enjoying a good book or laptop surfing the net, floating candles in the pool, Tiki's, Patio Furniture arranged on this Wood Deck to fit your taste, low voltage lighting, gas fire pit for those cool days, Planters or potted plants, smelling  those steaks on the grill and your choice of music playing in the background. Now look out your backdoor and what do you see?
The only limits having an above ground pool deck are your budget and your imagination but the benefits and memories are immeasurable

.

We offer No Obligation Quotes for your above ground pool deck just for the asking or Call 972-272-0554