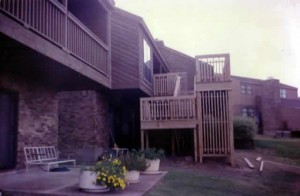 Backyard Decks Premier Builder
While we are known for our high quality backyard decks, we are in fact the premier general outdoor contractors in the Dallas area. Therefore, our custom decks include designs that go far beyond even a multi level deck, as we can create decks that take advantage of available space in any part of your backyard and of any style or format that you desire. This illustrates a second story deck that not only has become a convenient and comfortable place for family and friends to gather, but also creates a substantial shaded area below that provides even more enjoyment, as well as storage space, and can be used constantly, even on the hottest summer day. Pressure treated wood decking is reliable and cost effective for creating any type of custom deck, and we offer popular treated pine decking, redwood decking, Trex decking and cedar decking among the materials we use to create our renowned decks.
 Backyard Decks cost
The cost of building Backyard Decks has never been lower, even when it comes to a complex deck such as the one pictured here that provides so much enjoyment for the Dallas homeowner who had us design, build and install it. Dallas homeowners recommend us constantly for wood deck installation, knowing our reputation for creating outdoor environments that last for years with only routine maintenance and cleaning. Wood deck repair is almost never required even with constant use and exposure to the elements, thanks to our insistence on the highest quality outdoor decking which we craft into our custom decks using the most reliable deck construction techniques.
 Backyard Decks of any size or style
Now is the time for building Backyard Decks or a patio deck of any size and style, as outdoor decking is available at prices that are lower than usual and the demand for our decks means that our suppliers extend special terms to us which we pass on to you so that we keep the cost of building deck down without any compromise on our legendary quality of material and workmanship.
Please contact us by phone at (972) 272-0554 for a free estimate; there is never any obligation whatsoever. The FenceDeckDallas.com team of expert craftsmen looks forward to creating a wood deck just for you, whether it is Backyard Decks, simple wood patio decks, a multi level decks or a custom deck of any style and specifications imaginable.