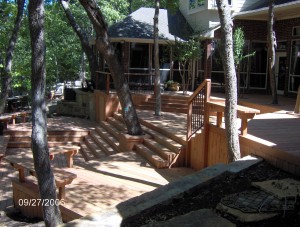 Wooden Patio Deck, you cab take advantage of
Taking advantage of an existing source of shade such as an awning or a tree is a great way of choosing a location for your new wooden patio deck. As experts not only in wood deck construction but also in all aspects of planning and constructing outdoor environments, our team of experienced custom deck builders at FenceDeckDallas.com will guide you as you decide on where to place your deck for maximum enjoyment and convenience. We will accommodate your needs and budget, whether you are looking for a simple single level wooden patio deck or  multi level decks that can surround your swimming pool or leads to the rear door of your home.
 Wooden Patio Deck is recommended
Dallas homeowners constantly recommend our wooden patio decks, as they know that we only use the finest outdoor decking materials including pressure treated wood decking that is selected specifically because it is durable enough to provide years of constant enjoyment even when exposed to the heat of a Dallas summer.
Wooden Patio Deck construction now available
Wooden  Patio Deck construction is now available at a lower price than it has been for the past few years, thanks to reductions in the price of pressure treated pine decks. Redwood decking and cedar decking, as well as treated pine decking, are now available at lower prices which we pass on to you in calculating the cost of building a deck.
Please call us at (972) 272-0554 for a free estimate with no obligation whatsoever. With our years of experience and reputation for building the highest quality custom decks at affordable prices, we look forward to building the wooden patio deck you have always wanted, no matter how simple or complex you would like it to be.