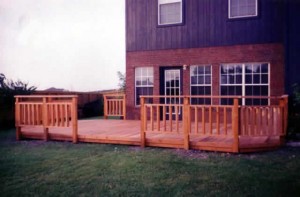 Redwood Decks, always beautiful
Our naturally beautiful redwood decks are always in demand among Dallas homeowners who know that we are the leading specialists in deck construction. Redwood decking is known for its natural beauty, and the toughness of the redwood tree that withstands the heat of its natural desert environment is retained in our outdoor decking, so that our decks withstand years of use and are impervious to any damage that could be caused by Dallas weather conditions. Building a backyard deck according to the highest standards of craftsmanship and with the most unique, yet practical and durable designs, is how we cemented our reputation as the leading outdoor contractor in the Dallas metro area, and we are always ready to build the wooden deck of your dreams in redwood or any other of our beautiful, resilient and sturdy natural wooden decking materials that provide years of comfort with only minimal routine maintenance.
Redwood Decks Pricing
Redwood decks pricing is at their lowest in recent weeks, and we pass the lower cost of materials on to you when we estimate and agree to the cost of building deck. We also insist on the most cost-effective and reliable methods of deck construction to guarantee that your deck will provide you with years of service. We offer wood deck repair for redwood decks that were built by any contractor at any time, but especially when it comes to an older deck we often can build a new wooden patio deck at a price that makes it worthwhile to replace rather than repair your old redwood decks.
 Redwood Decks or Pressure Treated Pine Decks?
Whether you are looking for a redwood deck or a pressure treated wood deck made from high quality pine or other woods, our FenceDeckDallas.com team offers the best prices and presents the highest quality of workmanship and materials for decks that last and provide years of enjoyment with only routine maintenance.
Please call us at (972) 272-0554 for a free estimate. We always look forward to building a new redwood decks that will fit your needs as well as remain well within your budget.