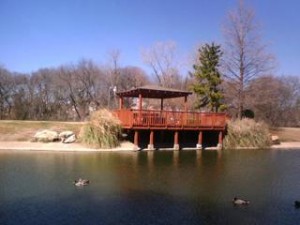 Leading builder of Decks in Dallas
While we are the leading builder of backyard decks in the Dallas area, we do not stop at backyard decks. If it is built of wood decking or similar materials, and it needs to last and look beautiful outdoors, we build it and we build it just for you to last as long as it possibly can so you can continue to enjoy it along with your wood deck for years to come.
Decks built with Treated Pine for beauty and strength
The strength and beauty of treated pine decks make it perfect to use as a base even for complex outdoor structures such as this shade structure with a raised roof. We can build a deck for any location, from a simple backyard deck which rests in the backyard of a typical Dallas home, to a wood deck installation on the waters' edge, a structure that can be enjoyed by guests at a lakeside home just as it can be installed in a beach club or resort. As the leading outdoor contractor in the Dallas metro area, we have served homeowners and businesses alike with anything from simple decks to multi level decks which support shade structures, outdoor grills, pools, spas and anything else that can be enjoyed outdoors along with a wood patio deck.
 Decks and the outdoor environment
Building patio decks can be the first step toward a full outdoor environment that allows you to enjoy the great outdoors year round, even on the hottest and windiest Dallas summer days. The cost of building deck is lower than ever before due to lower pressure treated decking prices and the introduction of new outdoor decking materials, and we never skimp on quality during any part of the deck construction process no matter the size and style of backyard deck you call upon us to build just for you.
Visit FenceDeckDallas.com or
Please call (972) 272-0554 or arrange for a free estimate. There is never any obligation when you take the first step to finding out how we can build wooden decks that is just right for whatever you need and that you can easily afford.