Decorative Garden Structures – Convert Your Garden Into an Exotic Paradise :
There  are some charming garden structures that can really convert your garden into an inviting oasis.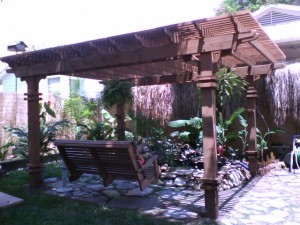 Eye catching decorative garden structures can really make your garden look impressive and elegant. These days such garden structures are very much in demand because they can really turn a simple and boring garden into an exotic paradise. Timeless classic garden structures like bridges, pergola, trellis, arbor and gazebos add additional charm and beauty to your backyard garden and lawn.
In this article, I would mainly like to tell you about some attractive garden structures that can change the whole ambiance of your plain and simple lawn area.
1. Beautify your garden with Trellises
A Trellis can be installed near the walkway, next to the entry gate and inside your garden area. You can use metal or wood for the construction as one of the many garden structures. For making the trellis look luxurious and elegant, paint them with vibrant and natural colors. Besides being an appealing backdrop for your garden, trellises are also used to support vines and flowers like wisteria, ivy, clematis, honeysuckle and morning glories.
2. Arbors are excellent to please your guest
One garden element that can really impress all your guests is the Arbor. These classic structures can be used to decorate the garden during festivals, garden weddings and social gatherings. They act as excellent backdrop for photographs and can also be used for decorating the entryway. Wooden arbors are also used for supporting long-stemmed flowers, vines and climbers.
3. Pergola is an excellent place for entertaining the guests
A pergola is a comfortable, charming and shaded outdoor space just like the patio area. You can arrange various small parties and picnics here for your family and friends. To make this welcoming retreat even more charming you can include a bistro table set, comfortable chairs and vibrant lights here. For constructing your own pergola you have to purchase construction kits which include pre-cut and pre-drilled posts. This comfortable oasis will provide you a cool ambiance even when the sun is blazing outside.
4. Garden bridges
Garden bridges can be used for practical purpose for just as a decorative structure. You can place this alluring fixture over your garden pond or creek. The length and style of the bridge should be chosen according to the requirements of your garden area.
5. Gazebos are perfect for social gatherings
A gazebo is another of many excellent garden structures that can be found in various huge gardens and lawns. They make a perfect place where you can organize spring weddings and parties. This shaded place can even be used for relaxing and playing games.
Garden structures are our specialty and we offer No Obligation Quotes or call 972-272-0554